Getting to Know Our Team – Ingrid Schultz, Chaplain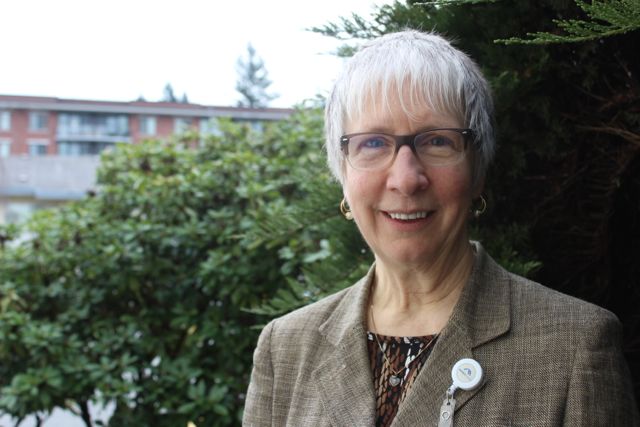 Ingrid Schultz is an inviting and warm presence around Menno Place. Have you seen her as she goes from building to building?
Q: What training did you get in order to do your job here at Menno Place?
A: I studied the Bible and Theology at the Anabaptist Mennonite Seminary in Elkhart, Indiana. I took a year of Clinical Pastoral Education (CPE) at Vancouver General Hospital in Vancouver. I have also been a pastor for 20 years in Chicago and Vancouver.
Q: What did you want to be when you were a child?
A: I wanted to be a teacher. I did become one – working in Houston, BC, and in a little village in rural Bolivia
Q: What do you do to relax?
A: I read, journal, swim, walk and visit with friends.
Q: What two radio stations do you listen to most in your car?
A: I listen to CBC radio and to books on CD in the car. The Fraser Valley Regional Library has a great collection of books to listen to on tape with some wonderful readers. I'm never bored in traffic!
Q: What is your favorite thing about working at Menno Place?
A: Our amazing staff, residents, families and volunteers. Each one has a story to tell and a gift from God to share with others. I love to see that happening. It is great to be a part of the Menno Place family.
Q: What is your favourite place that you've been to?
A: Yoho National Park. I'm going camping at the falls there this summer.
Q: What is your favourite family recipe?
A: I love my mother's delicious goulash recipe! I'm still trying to get mine to taste like hers. My siblings say when I make it I don't put enough wine in it! I'll keep working on it!
Q: What was your first job?
A: Working in the laundry at the Vancouver General Hospital.
Q: Who knows you the best?
A: The 11 women who are a part of a group of former mission workers called "the Support Circle". We have met once a year for the past 25 years for a week-long retreat. We share deeply about what is happening in our lives, what God is teaching us, decisions we are needing to make and then we pray for each other. We also have some great times of singing and worship. My favourite was in an empty grain silo in Kansas where the acoustics were fantastic and the hymns of praise seemed ready to raise the roof!
https://www.mennoplace.ca/wp-content/uploads/2016/11/Ingrid-Schultz.jpg
427
640
Danielle Kinvig
https://www.mennoplace.ca/wp-content/uploads/2016/04/MP_logo_2014_tagline-300x160-300x160.jpg
Danielle Kinvig
2015-11-18 08:06:09
2016-11-10 08:11:57
Getting to Know Our Team – Ingrid Schultz, Chaplain