First Impressions at Menno Place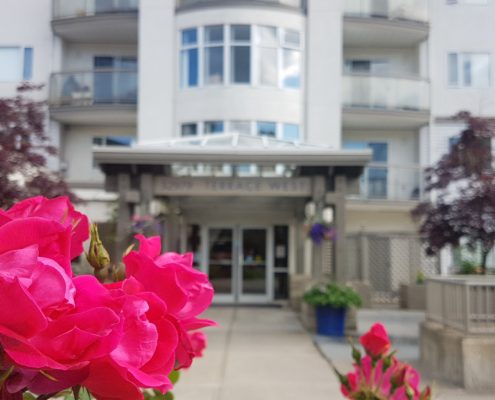 Monday morning, my first day of a brand new job; I drove into the Menno Place parking lot full of trepidation. Not only is this my first "grown up" job, it is my first real encounter with the world of seniors care. My own grandparents are still relatively young and spry, and as such, the only context I have for seniors homes is mandatory volunteer hours in middle school. I am not quite sure what I expected, I just knew that my past experiences with retirement homes had no positive emotions attached.
I spent the entire day surprised. I was surprised by how beautiful and welcoming this campus is. The gardens, courtyards, and walkways are immaculate; the apartment buildings are modern and spacious; no corner of this place is neglected. Every staff member I met was joyful and obviously passionate about their role. Whatever fear about this new job that I'd had at the start of the day began to dissolve as I realized that people love being here. Upon my introduction to several of the residents, I was struck by the friendships that so clearly exist between them and the staff.
It was so evident as I walked around campus meeting staff and volunteers, residents and visiting family, that this is a place that encourages engagement. I had this idea in my head that residential care was basically a waiting game, that Menno Place was somewhere people came to whittle away their last days in the care of nurses. I was completely mistaken.
As I walked through just one wing of the hospital I saw a room full of people working on a crossword together. Normally a rather solitary activity, here crosswords are a group game.
I saw a group of women sitting on the patio enjoying the sun in companionable silence. How many people in my life am I comfortable sitting beside in silence?
I saw a couple sitting near a piano, listening to the melodies being played, holding hands and smiling at one another. Turns out, he doesn't live with her here, but he visits every day. My heart aches with the beauty of their love.
Our Western culture turns old age into an ailment, a disease, something we need to avoid or remedy somehow. This sort of thinking only fosters fear in our hearts. Growing older is not something to be feared, it is simply another stage in our life. Just like going to college, or having kids, or turning 40, moving into the senior years of your life is a very normal transition. Sure, it might be a bumpy transition, but is change ever smooth? Here at Menno Place, I see people learning to embrace the next stage of their life and make the most of it.
In the course of a single day, my perspective has been completely altered, and I have learned a great deal about care, love and what it means to walk with a community through every stage of life.
Amanda Dick
Amanda is a third year Biblical Studies student who dreams of inspiring people with the beauty of narrative. Her role at Menno Place this summer as the communications student is to shatter stereotypes and share stories.
Menno Place