Menno Place is Accredited with Exemplary Standing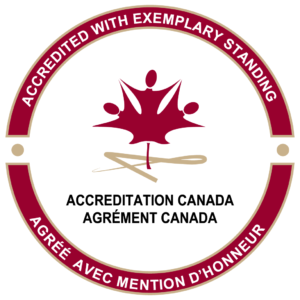 Who gives the Accreditation Certification?
Accreditation Canada is the independent, not-for-profit organization that examines and assesses health care providers. See their website: https://accreditation.ca/
What does Exemplary Status mean?
Accredited with Exemplary Standing means that the organization exceeded the most rigorous requirements of the accreditation program. This is the highest standing awarded by Accreditation Canada.
Why Accreditation Matters
Accreditation helps health care organizations improve their performance for the benefit of their clients and the health system.
Each of our client organizations has chosen our ISQua-accredited program to help them pursue excellence, improve their performance, and guide their ongoing quality and safety initiatives. They do so both as a mark of pride and as a way to create a strong and sustainable focus on quality and safety within their walls.
Our approach to accreditation strengthens the quality improvement efforts that organizations already have underway. It helps them:
Assess their services and find out where to focus their improvement efforts
Develop standardized processes to improve efficiency and reduce costs
Mitigate risk and support the uptake of best practices
Build a culture of quality, safety, and excellence
Identify leading and commendable practices
Publicly promote their commitment to offering safe, high-quality services
(Taken from the Accreditation Canada website)
Look for an Accreditation Canada banner or certificate when you are at a health care organization. If it is accredited, you'll know the organization is proud to have been assessed by its peers, met or exceeded national standards of excellence, and continues to strive for excellence.