Nominated for Canada Cares Professional Caregiver Awards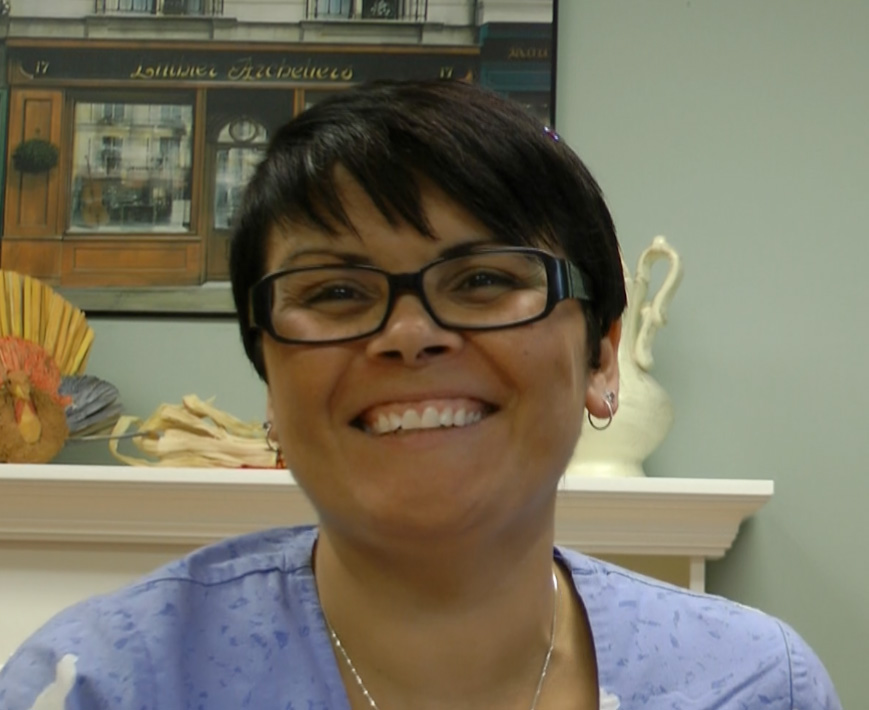 Erin McQuaig is an LPN with a passion for hearing others' stories. She was raised in a family of nurses and their stories resonated with her own heart.  Erin has wanted to be a nurse since hearing those childhood stories. Her mother and all three sisters are nurses. She has learned from them and appreciates how they care for others.
Nursing is a career and a calling for Erin. It is in helping others that she finds herself fulfilled. She relishes the opportunity to brighten someone's day and to have her own day brightened as well.
Erin practices nursing on one of the units at Menno Hospital. Known for her attention to detail, her drive to find the source of a persistent medical issues, her perseverance in systematically addressing care needs and her kind friendship, Erin is a bright light for residents each day.
After finishing her LPN training, Erin had the opportunity to work in acute care and other high-demand hospital settings. She did not have her eye on long-term residential care until she did a practicum at Menno Apartments, assisted living. Following her practicum, an interest in the complexity of care for elders was ignited.  Along with the unique medical challenges of the elderly, she realized that a connection with a resident was much more meaningful to her than simply changing a dressing. She began to seek out an opportunity to find a permanent position within a long-term care facility. Six years ago, that opportunity opened up at Menno Hospital.
Erin is responsible for 26 residents' medical needs and wound care each shift. She is known to her colleagues and the residents as a thorough, systematic and kind nurse. Her respect for elders enables her to listen carefully to their stories. Her listening skills have proven essential in discovering the source or root to the medical issues faced by the residents. Rather than simply manage pain or adjust a resident's position in bed or wheelchair, she works to discover the source of pain and address it as much as possible.
One resident shared the story of how Erin helped her to manage pressure wounds and circulation issues through positioning and consistent wound care. This resident was admitted with such immense leg pain that she rarely left her room. After a fall, she broke her leg and was immediately overwhelmed with pressure sores from the leg boot. Erin worked with the resident to decrease the pain and reduce the pressure sores. This care and attention has given the resident the ability to socialize and enjoy her life again. Her eyes light up with delight when she sees Erin approach.
Erin has a special place in her heart for the residents who are palliative. She feels strongly that we must do all we can to help an elder pass from this life in comfort and care. Erin spends her own time and resources to decorate and update the palliative care room on her unit, paying special attention to the home-like comfort that those who are dying require. She knows that this unit is most likely their last earthly home and she is dedicated to making it as wonderful an experience as possible.
Erin McQuaig is a humble, gentle and kind woman. She has no desire for public recognition and was reluctant to be nominated for this award. She says that her ability to help others on a daily basis is her life's work and her life's reward. This love for her calling as a nurse is evident  – as she speaks about her life's work her eyes light up and her smile spreads broadly across her face. She is genuinely happy in the work and opportunity that she has each day. Erin's colleagues are grateful for her presence on their unit. Her manager, along with the leadership at Menno Place eagerly submitted her name for this award. Her outstanding skills, professionalism and love for the residents is recognized by all who know and work with her.