Necessary Conversations: Between adult children and their aging parents by Gerald W and Marlene Kaufman
Book Review by Barrie McMaster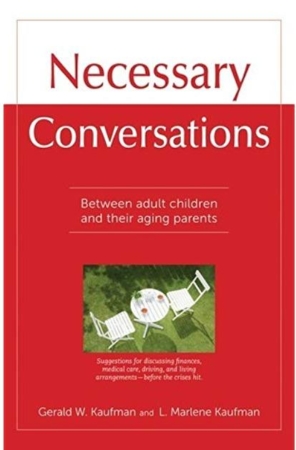 Now here's a book you have to read if you're a parent and you plan on dying any time in the 21st century.  It's well titled:  Necessary Conversations becomes a "Necessary Read".  And if you follow its precepts, you'll probably die happier because you grabbed the chance to hit the issues square on, calmly and rationally, rather than in the middle of a crisis, or as the cause of a crisis, or not at all.
The work is not a whole tub of fun because of the realities it keeps presenting, but it is written conversationally, matter-of-factly, and understandably.  The authors note that most people "like to keep their private thoughts, private".  But on the flip side, "Humility can be a life-expanding virtue." The authors are professional counsellors, a married couple, each with their own practice, and they write from a wealth of experience.
While it is not necessary to face the topic of your demise at the moment you retire, the end of your work is a useful time to get your little tribe together for straight talk. The Kaufmans say retirement is a time no one can ignore, so it's a good time to launch the conversation.  On your retirement, kids may withhold their private thoughts about what the future may bring, while the retiree is involved with "self-talk concerns about what we are now becoming."
Your adult children are in a completely different place from your friends, on your retirement, because they are in the same circumstances. With friends, "our common laments create a spirit of camaraderie." Everyone "knows" that the retiree has stopped living in an age of growth [not necessarily] and that now, "we are entering a stage of decline, of entropy." Not so with your kids and, for different reasons, they may not want to face it any more than you do.
The authors provide four essential topics to discuss with adult children:   your finances, housing needs (now and in the future), health and medical issues, and end-of-life wishes.  Any of those topics will get you going, they suggest. All of them involve an obvious need for practical steps and straight talk.
You also need to talk with your spouse. The two psychologists warn it can be costly not to do this. "We can be too private and miss out on the benefit of other peoples' wisdom as well as their support." They say it's good to keep a journal and it's really useful to have daily chats, perhaps over breakfast, with your spouse – chats about your private thoughts and your fears. Retirement will change your marriage, they say, so open the communication lines. They tell of one couple they worked with who said they'd been instructed on every major phase of their lives – marriage counselling, finances, how to have a baby, how to bring up a child – the works. But the couple realized, "What we didn't get was an orientation to retirement."  So it is important to talk, to keep it real and to keep it open between each other.
On leaving work, "there's a vacuum," say the Kaufmans. Retirement can lead to spouses getting on each others' nerves.  Males especially can feel a lack of purpose and self-worth, while women "tend to find more meaningful things to do."  Tension can arise over set male and female roles.  "And [in retirement] we can no longer escape scrutiny by running off to work!"
Unrealistic expectations can be lethal in retirement. Those blissful thoughts of travel or golden times seldom work out as we had thought.  But talking at least keeps communication open. Talking can make people aware of what they do have.  It is strengthening to realize a growing appreciation of the ordinary things – "the cuddling, the back rubs, the sharing of chores."
When you talk with your spouse, don't avoid the topic of health.  Discuss frankly what medical conditions you have, what events you fear, about caregiving.  Similarly, be certain each of you knows your finances.  Confer and share.  It matters.  So does the matter of housing – potentially, a "huge issue" if not discussed adequately in an unpressured climate.
Spouses' necessary conversations also involve unresolved differences.  While there is time, "…reflect openly on the painful times and seek healing and forgiveness….   Too many marriages have ended at the sudden death of a spouse before the couple could forgive and reconcile.  The grief of these survivors can never be resolved."
The same holds true for adult children, who may be carrying old pains and hurts.  "What is important is to forgive each other and…accept each new day as a gift," they say. "People need to believe that their parent did the best they could in the circumstances."  So we return to the talks with the kids.
Conversations with adult children
The main thrust of the Kaufman book, despite their wise section on spousal talking, is relationships between aging parents and their children.  The odds are dramatic, for example, on caregiving. The  average age to start looking after parents is 46; 40% of adults will spend at least some time caring for their parents, and the average length of the commitment is five years.  So, it is important to talk before a crisis happens, even though most people don't want to.  Better to talk now, say the Kaufmans, than when the decline begins, and children realize the upsetting reality, "we are beginning to lose them as parents".
Caregiving these days is complicated by the changed circumstances of 21st century life:
many "kids" have moved away from their home communities;
changing employment changes circumstances;
divorce and remarriage can make for a pesky mix;
adults tend to have their own families much later than a generation ago.
Clearly, solutions are not simple. But the authors insist, these things need to be talked over.  Ahead of time.
Many ethnic groups have traditions that sometimes change in North America.  Parental finances may be shared over the extended family, for example. But the more affluent parents become, the less likely they'll want to be open about their wealth.  Amish and other groups tend to share their assets before they die, and in turn their children accept and support them in their retirement. But whatever the traditional ways in anyone's family, the authors say it avoids untold problems to talk early and often about 'the money'. "Such openness," they say, "can bring a feeling of partnership and peace of mind…, diminishing the chance of misunderstanding and family disputes, especially in a crisis."  Having adult children's partnership can also tend to reduce the likelihood that an enfeebled elder could make bad decisions – or even, be scammed.
Talk about death and funeral expenses, and put your plans on paper, and list all the assets, complete with account numbers and other details that someone must know about when death comes.
The same principle applies to health matters. The authors warn, "It's not whether our health will decline, but when."  The cost of not talking about this when everyone is well and "with it" is often a set of poor decisions.   The Kaufmans say, "Tell all. If your kids are going to be helpful partners through the remaining years, we should keep nothing from them."  They provide a practical list of topics to cover. And while the family is at it, don't overlook end of life wishes.
Most North American elders fear loss of their drivers licence, and that's another topic to tackle best when that day seems strangely distant.  So, take a breath and draw up an agreement to listen to your kids, or to a designated adult child, or whatever seems workable.
When death does us part
When a spouse becomes incapacitated, life takes on elements of unreality, because the healthier spouse is not alone as such, but feels alone, lonely, and even widowed, according to the authors.  One client of the authors said visiting her spouse in a nursing home was painful.  He was so confused, she felt he did not even recognize her. "In some ways," she said "it seems he has already died." Many whose partners have been victimized by Alzheimers will relate to that sentiment.  The authors comment that we have little experience with aloneness, and do not look forward to it.
There is a full chapter devoted to the life of a spouse "left behind". The widowed partner not only misses the spouse, and feels left behind, but may actually feel abandoned.  "The partnership that we formed with our adult children," they say, "is now more important than ever." So including the topic in conversations when everyone is healthy is in turn a healthy beginning toward a later time of comfort.
The book speaks of many topics in this season of life, including living arrangements, money and finances,  affordability of lifestyle, companionship, changes in social life, and even remarriage. It's a common sense contribution to the topic nobody wants to consider.
Legacy of family
So we need to talk, share, and stay partners with each other, as we walk through our seasons of life.
I found the book convincing and have purposed to have such family discussion. I mentioned my intention to our youngest offspring, and got the response I had expected:  "Really?  I don't want to do that!!" But the authors say we all leave a legacy, and each family shares one.
"The choices we make during our senior years shape our legacy.  They demonstrate the stewardship of resources [and]…also send messages about the importance of family, shared decision-making, and the need to plan wisely for the future." Those are the reasons my protesting adult child will show up.
Barrie McMaster is an award-winning news reporter and radio broadcast executive best known for his work in the B.C. Lower Mainland.  He reported on many major events in and around Greater Vancouver and was a familiar voice on CKNW newscasts.  He helped to put a new Fraser Valley radio station, STAR-FM on-air as its program director.  He holds an M.A. in Political Science, and shaped and taught the first two-year broadcast journalism program at the B.C. Institute of Technology.
He is active in volunteer work in the Valley, having served as president of Chilliwack's Rotary club, a director on the Ann Davis Transition Society board, Chilliwack Social Planning Council, Chilliwack  Symphony Society and many political campaign committees.  He served as B.C. Correspondent for the Mennonite Brethren Herald magazine and continues as a freelance writer.
His passions include his local church, where he has served as an elder for many years. He and wife Jan have travelled frequently to West Africa as members of instructional teams.  At home, they often serve together on community projects and passionately love and enjoy family and grandchildren.  Barrie plays the cello, loves travelling, and enjoys time with friends.
He likes to share the fact that aging is far better than it's cracked up to be.  "It can be a wonderful time of life."