Who are you protecting this flu season?
Menno Place protects our communities by minimizing the spread of the flu virus. Flu season peaks in the late fall and winter with about 5 – 10% of Canadian adults affected each year. We know the symptoms – fever, cough, muscle aches, loss of appetite and fatigue. Some will experience nausea and vomiting.
At Menno Place, we follow the directions of the Fraser Health Authority which requires all staff and visitors to do their part in order to protect our residents from the spread of the flu. This means that all staff and visitors must have either a flu vaccination or wear a mask when in the presence of residents.
Most healthy adults recover from the flu within a week to 10 days. Those who have chronic health issues, however, are more susceptible to becoming ill and even death due to the flu.
When you sign-in to visit a resident at Menno Home, Hospital and Terrace East, you will find a badge to wear. There are stick-on badges for one-time visits and clip-on badges for frequent visitors which you can keep. Please place a badge on yourself at sign-in. This will let the staff know that you are a "Flu Season Hero".
What is a Flu Season Hero?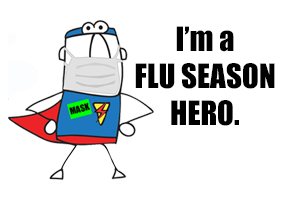 This is someone who understands their responsibility in preventing the spread of infection during the flu season.
They have received an annual flu shot OR they wear a mask when around residents.
They wear a badge while visiting residents at Menno Home, Menno Hospital and Terrace East Assisted Living.
They are part of the solution, not the problem.
They don't visit residents when they have symptoms of cold or influenza.
They wash their hands diligently – this is the #1 way to prevent the spread of infection.
What happens in an outbreak?
An outbreak is announced when several residents in a unit have contracted a cold or influenza.
When an outbreak is called, the staff on that unit follow strict protocols to prevent the spread of infection. These protocols include increased housekeeping, limited movement between units and all of the staff remain within the space during their entire work shift.
When an outbreak is called, Menno Place communicates to Friends, Family and Residents in a variety of ways: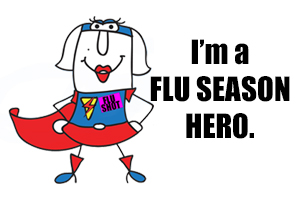 In real time (in the moment) – we send out a Twitter tweet via Twitter.com/MennoPlaceAlert. If you have a Twitter account, please follow our alerts.
If you don't have a Twitter account, you can see the real-time updates on our website: www.MennoPlace.ca/alerts
The morning after the outbreak is announced, Menno Place sends an email to all who are subscribed to the Family, Friends and Visitor email newsletter.
Resources on Flu
[bsk-pdf-manager-list-category id="1″]
https://www.mennoplace.ca/wp-content/uploads/2019/01/FluSeasonPost.jpg
200
300
Danielle Kinvig
https://www.mennoplace.ca/wp-content/uploads/2016/04/MP_logo_2014_tagline-300x160-300x160.jpg
Danielle Kinvig
2020-01-29 14:30:20
2020-01-31 18:52:52
Flu Season Heroes – Wear Your Visitor Badge