Help! I need to buy grandma or grandpa a gift!
Most elderly seniors will say that they don't need anything for Christmas – and yet, we want to get something for our elders that will remind them that they are loved and cherished. After polling staff at Menno Place, one of BC's largest seniors' campuses (700 residents), we compiled a great list of gift ideas for your elderly loved one. We hope this helps!
Something to Enjoy
Floral Subscription – a local florist in Abbotsford, Buckets of Flowers delivers a bouquet of flowers on the first Monday of the month to one of our residents. Ensure that the flowers are unscented as most care facilities have a non-perfume policy. The cost for this lovely gift is between $25 – $50 / month.
Chocolate or cookie subscription – a monthly delivery of delicious chocolates or cookies gives an elderly person something to offer their visitors and enables hospitality. Check with a nurse to choose the best cookie or chocolates for swallowing and allergies. amazingclubs.ca – $40 / month
Interest-specific television channels – A devout baseball or hockey fan will enjoy watching their sport any time of day. Nature and Travel are a wonderful way to spend time together. A favorite travel show for seniors is Armchair Tourist. You watch a tourist spot and then guess the location. It's a fun game to play together. If cable is provided through a PVR, you can set up recordings that will be ready for you to watch together when you visit. Check with cable provider to get the details on which channels you can purchase and the cost.
Calendar of Special Dates – record all of your loved one's family's birthdays on the calendar and provide them with a selection of birthday, anniversary and congratulations cards. You can choose to pre-address and pre-stamp the cards as well. A week before an event, write "Send *** their birthday card today" and it will arrive just in time! Staples has personalized calendars through their online print shop starting at $4.98 – staplescopyandprint.ca
A tabletop Christmas tree. I was invited into a seniors' apartment to look at the amazing tabletop fibre optic Christmas tree he received as a gift from a friend. He was so excited. The tree changed colors and provided him with a constant reminder that the giver of the gift cares for him.
Technology
A flat screen TV – these are coming down in price quickly. An elderly person will enjoy having their own high quality television that doesn't take up the room of an older television. A 24" LED HD TV is selling for as low as $138 on the Canadian Wal-Mart website.
Big button remote control – Shaw cable has a simplified remote called a Transport. Other brands to check out are Weemote and Tek Pal. Before you buy call the manufacturer or you cable provider to ensure that they will work together with the cable box.
A tablet – believe it or not a third of seniors over 77 are online. For elderly seniors with agility in their hands, a touch-screen tablet is the easiest new technology to learn. We've seen people in their 90's connect through Skype of FaceTime with children, grandchildren and great-grandchildren. Hint: Choose a tablet that a teen in your family understands since they'll be providing technical support! 10" tablets start at $280 through big box stores.
Brain games online – The brain training games that are most recommended in seniors' facilities are www.BrainHQ.positscience.com and www.Lumosity.com. These are monthly subscriptions that can be gifted to a senior for $96/year or $84/year respectively.
Hearing Aids
The Amplified Neckloop – $89 or Bluetooth – $209 – This is an amplification system that hangs around a person's neck. It interfaces with the t-coil in most hearing aids and delivers sound directly into the hearing aid from a directional microphone, television or even a cell phone! (www.alds.com)
Hearing Aid Conditioning Systems – $109 – Hearing aids can produce fuzzy noise if they are exposed to moisture or earwax. This little unit keeps them dry and cleans them overnight.
Spiritual Life
An mp3 or CD Bible – an interesting and dramatic version is The Listener's Bible (listenersbible.com) starting at $29 for a download and $89 for a set of CDs. Various versions are available. GoBible.com has one of my favorite Bible dramas – The Bible Experience. You can also buy a hand-held portable MP3 device that comes pre-loaded with an entire audio version of the Bible – starting at $79.
Transportation & Safety
Many elderly seniors feel "shut-in" because the cost of safe transportation is expensive. Consider purchasing a month of Taxi Saver coupons for $40. This can be a one-time gift or a monthly gift. With these coupons, the elderly senior saves 50% on taxi service. This may be a significant means to attend church, go shopping or see friends. (https://bctransit.com/central-fraser-valley/riderinfo/handydart/taxi-saver)
A Lifeline call button can be worn on a wrist or around a senior's neck. When they push the button Lifeline will call a senior's emergency contact. Lifeline has a product that predicts a fall and calls for help even if the senior is unable to make the call themself – $40/month – www.lifeline.ca
Comfort and Lovely Items
Blanket / Shawl – Polar fleece is a nice way to keep warm – especially if it has pockets for hands and Kleenex. Knitted blankets have holes and don't provide the same level of comfort. Don't be tempted by electric blankets – instead, take a look at the Thermal Zone Fleece Blanket from LL Bean ($99). It has an extra warm foot-zone – llbean.com
Suspenders – Men and women will be grateful for suspenders that hold up their bottoms during a therapeutic walking session. This will help relieve anxiety and ensure dignity while an elderly senior recuperates from a hip surgery or stroke.
Foot care service – Elderly seniors love pedicures, but often their foot care needs are more complex. Fungus, corns, bunions and cracking skin can be painful and immobilizing. Reaching feet can be difficult. A foot care nurse will cost between $25 – $50/session. Regular foot-care service can be the gift of pain-free mobility.
Non-skid slippers – It's time to throw out the hand-made crocheted slippers that could be reason an elder falls. Purchase a pair of rubber-soled slippers that are comfortable and practical.­­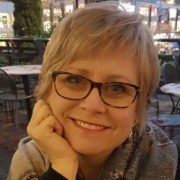 Sharon Simpson
Sharon Simpson is the Director, Communications and Stakeholder Engagement at Menno Place, a senior's campus-of-care located in Abbotsford, BC. She regularly writes for Menno Place, The Light Magazine, and the MB Herald.
Menno Place