Standing on Your Promises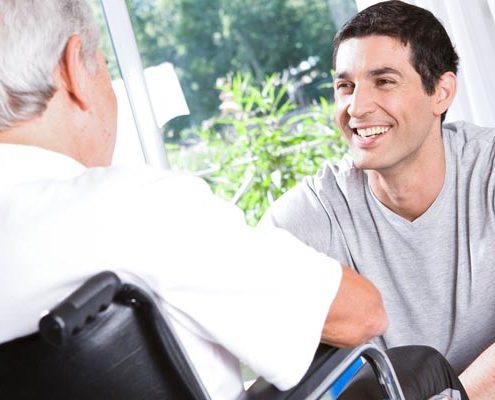 What is a promise? The dictionary says that it is an assurance or declaration that one will do a particular thing or that a particular thing will happen. It has been said by philosopher/political theorist Hannah Arendt: "Promises are a uniquely human way of ordering the future, making it predictable and reliable…"
As people get older, children and friends gather around to provide support and care in practical ways that best meet their needs. They have conversations about some of the most important things in life and death. The elderly share their heart, their fears and their hopes for the final years of their lives. In doing so, they often ask their children or spouses to make promises.
Desiring to carry out their parent's or spouse's wishes, many loved ones are bound by a commitment that can become challenging as their loved one ages. Here are some promises that you may be able to keep (CAN) and others that will be challenging (CANNOT):
1. You CAN keep your promise to be an emotional support for your loved one. You listen empathetically and work toward understanding their needs and circumstances. "One of the most sincere forms of respect is actually listening to what another has to say," said Bryant H. McGill. By being emotionally available to your parent or spouse, you serve one of the deepest needs of the human spirit – the need to be understood.
2. You CANNOT keep your promise to keep loved ones together until death do they part. If one member of a couple requires care in a 24/7 nursing home, it is very likely that they will end up living separately. There are no subsidized nursing homes in BC that enable a couple to live together in the same room if they have different levels of care required. For many couples in this juncture, the best that they can experience is to live on the same campus of care within walking distance of each other.
Over 50 couples live on the Menno Place Campus of Care in Abbotsford. The demands of caring for another who has suffered stroke, Parkinsons, dementia or other neurological degenerative diseases is overwhelming. Many couples, particularly the elderly, become aware of their physical limitations in caregiving. They begin to explore the difficult decision to place their spouse into care.
I sat with an elderly man who was eager to chat but constantly distracted by the passing time. "I've never been away from her for more than an hour," he explained, glancing at his watch. He had just completed a tour of our campus to see what life would be like here for his wife of 57 years. She was suffering from Alzheimer's and had become a safety risk as she had started to wander from home. He gladly accepted the offer of a coffee and a listening ear. For close to 10 years he had managed to keep his promise to care for her in their home. And now, exhausted and conflicted, he was touring a nursing home. A friend was at home with his wife, but he was antsy to get back to her. "I feel like I'm giving up if I bring her here," he said with tears welling up in his eyes. "I promised her that I'd never do this but she's not safe anymore. I've got every door locked from the inside. I just hope we don't have a fire. We'll never get out."
I gave him a hug, offered a prayer and asked him if he'd like to meet some of the other men on our campus who have walked this path before him. He declined, said good-bye and headed back home to his promise. I admired him and I suffered with him in that moment.
3. You CAN promise to be an advocate. This is one of the most powerful roles you can take to support your parent or spouse's physical, emotional and spiritual needs. An advocate has the goal of supporting and upholding the rights of another. They provide information and assistance. They advocate for privacy, confidentiality, representation, awareness, support and education. As an advocate, you listen to your parent's medical team, to your parent's wishes and to those who provide social and spiritual support for your parent. You are the eyes, the ears, the heart and the spokesperson for individual person-centred care.
4. You CANNOT promise you won't put your parents in a care home. Many parents share their hope and desire to live out their natural lives in their own homes. It is common for children to make this promise – and devastating for them if the care needs of their parent exceed their capacity to fulfill this promise.
I remember one of the first times I witnessed an adult child struggling to keep this promise. Mom was in palliative care in hospice. Dad was keeping vigil and while doing so suffered a stroke. He was in the acute care hospital as well. During this time, the family home flooded when pipes burst. Two of the three children lived out of province. The remaining child was juggling the stress and grief of this challenging set of circumstances. Dad was begging to go back home. His daughter slouched on a chair in front of me, head in hands and began to sob. She was exhausted, grieving, resentful of her siblings' absence and riddled with guilt that she was touring a care home for her dad. "I don't know what else to do," she said through her sobs. "I work full-time and I still need my job."
5. You CAN honour the requests of your loved one for their memorial or Celebration of Life. To celebrate your parent or spouse according to their wishes is of the most powerful ways that you can keep a promise. Pre-planning a memorial service will bring you into meaningful conversations as you discuss Scriptures, songs and people who will share the important aspects of your loved one's life.
6. You CANNOT promise that your parent or spouse will be assigned to their choice of nursing care home. The assessment and placement system for those in residential care is "first available bed". You are able to share your first choice of care home with the case manager, but you are not guaranteed a bed in that care home. Many years ago, you could approach a care home and get onto a waiting list for a care home. That is no longer the case. The case manager who provides the assessment for care will also put your name on a waitlist. Your preference will be taken into consideration but isn't guaranteed.
7. You CAN promise to visit regularly. To promise daily visits can become a challenge, but regular visits (depending on distance) can be a blessing. If you are visiting with an elderly parent or with your spouse in a nursing care home, you will very likely form friendships with those who provide care services for your loved one. Don't distance yourself if you can't visit. Send a letter, make a phone call, stay connected. At Menno Place, laughter often echoes through the hallways as friendships spur on the lighter side of life.
How do we stand on our promises? We make ones that we can keep. Thoughtful promises to the ones we love help us to fulfill our calling, our practical caring and our vows. We share the journey and blessing of enduring love with others – even those who are paid to take care of our loved one. We rely on the Promise Keeper who said He will never leave us or forsake us.
And when you do that, you'll be "Standing on the promises and cannot fall… listen'ning every moment to the Spirit's call… Resting in my Saviour as my all in all… Standing on the promises of God".  – (Russell K. Carter, 1886).
Sharon Simpson is the Director, Communications and Stakeholder Engagement at Menno Place.